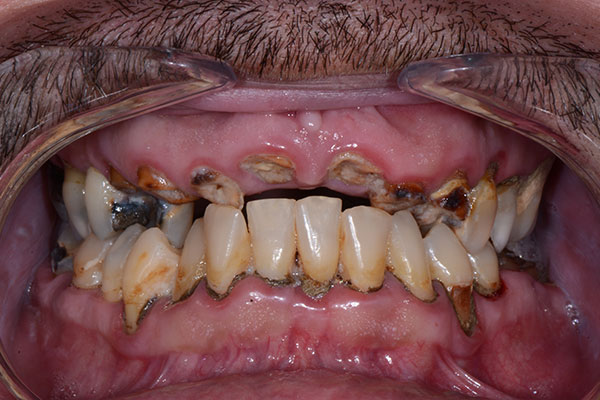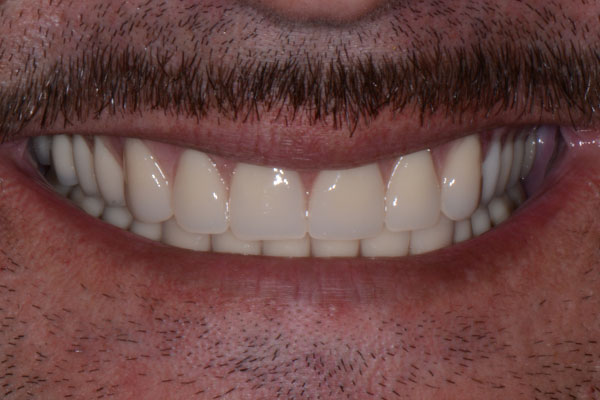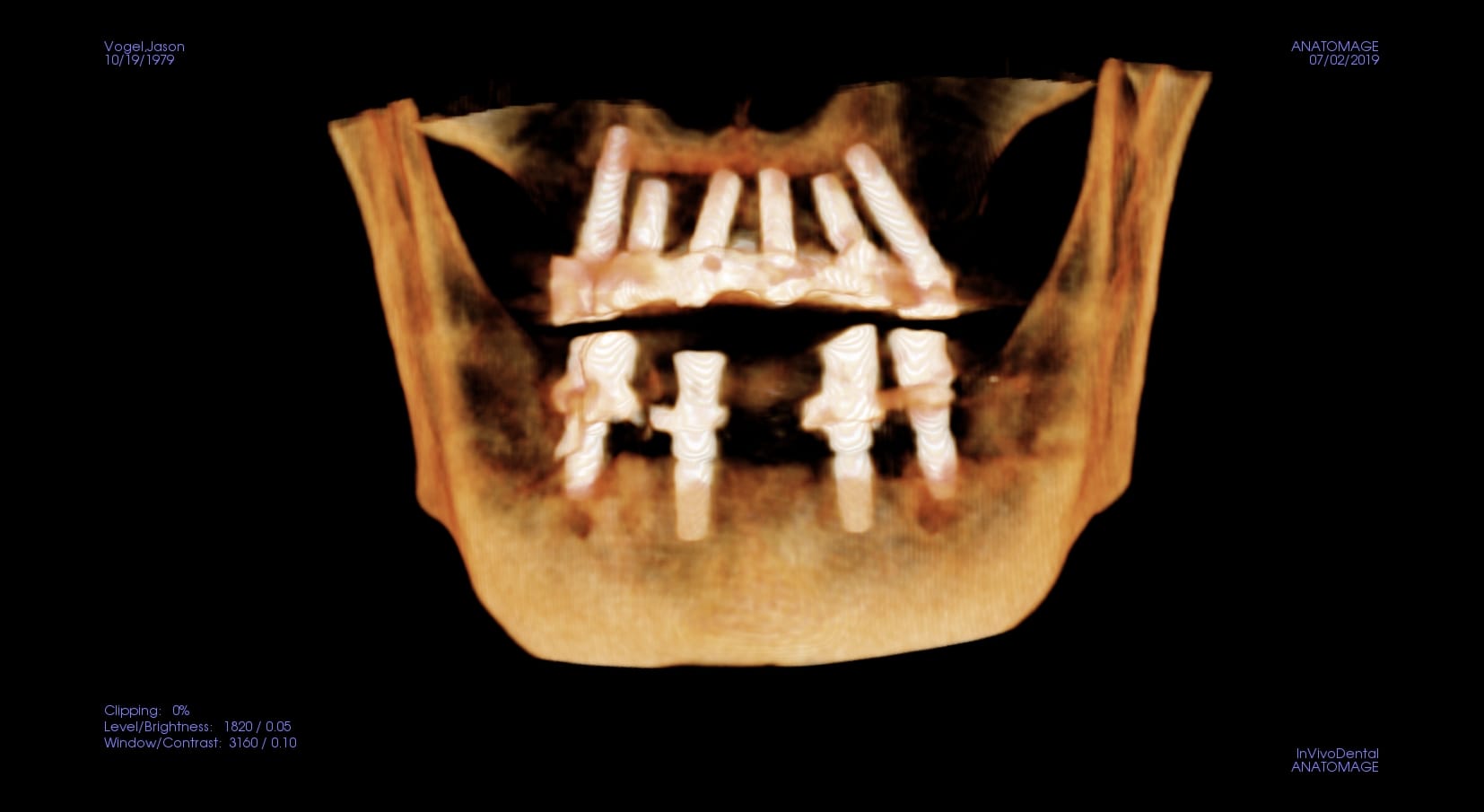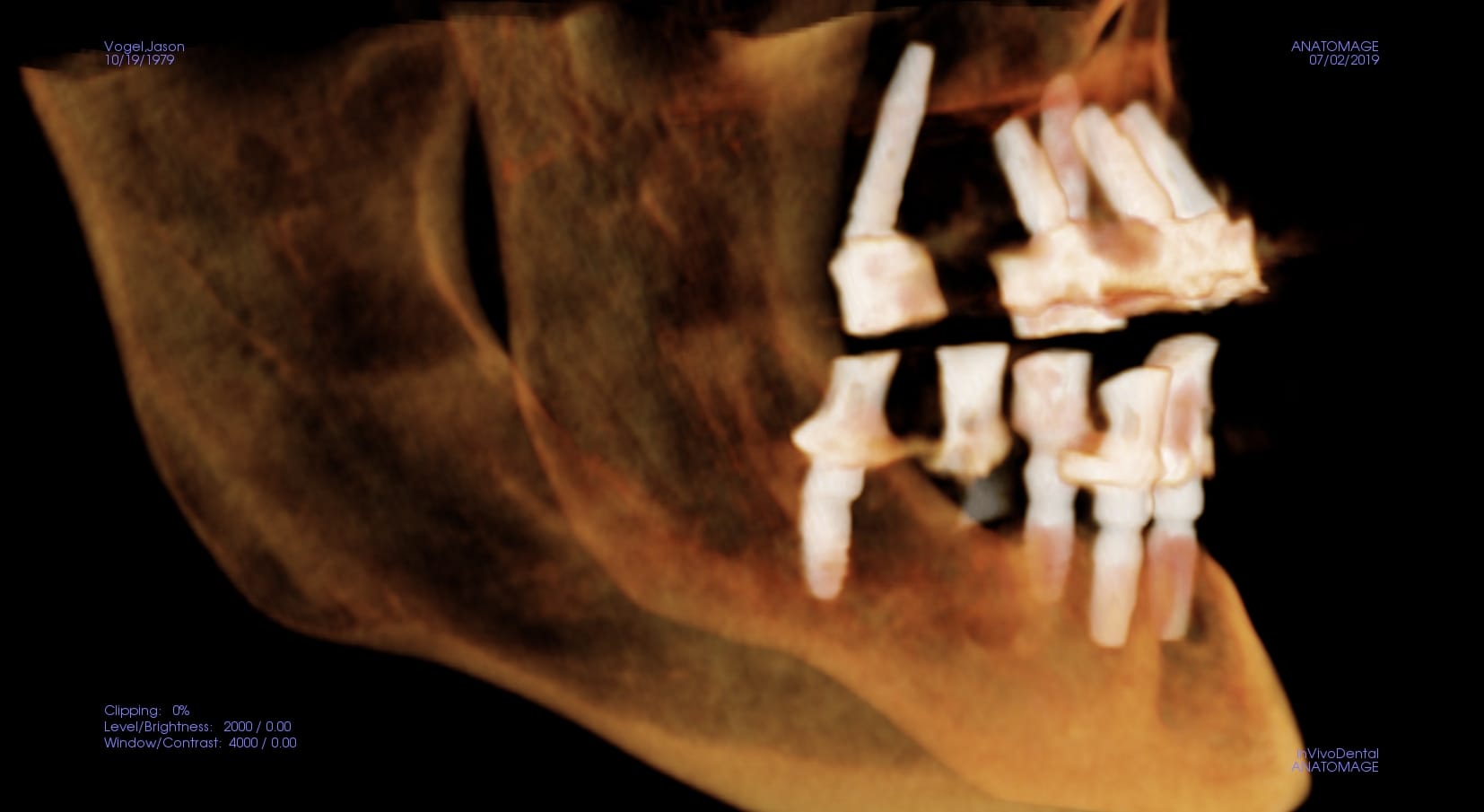 The best thing I've ever done in my entire life was get these locking dentures!

– Jason
Are you dissatisfied with your current dentures? Do you have teeth that are so damaged or decayed that they need to be removed and replaced? Would you like to have the confidence of knowing your teeth won't move? All-on-4™ (locking dentures) might be for you!
Removable dentures can be problematic in many ways.
Technology that has been around for hundreds of years.
They slip, move, and feel unstable.
Food gets trapped underneath, causing discomfort and possible infections.
They often require glue to stay in, which is unpleasant to most people.
Often look fake or "bulky."
For an upper denture, the roof of the mouth is covered with plastic/acrylic, which is cumbersome and affects taste perception, speech, and comfort.
For a lower denture, retention is extremely poor, as the tongue invariably moves it around. In addition, the bulky plastic/acrylic is quite uncomfortable for most people.
Our experienced team of dentists at Saco River Dentistry have extensive experience helping patients improve their overall quality of life using All-on-4™ implant-supported dentures. Contact us today to schedule a consultation.
What is All-on-4™?
All-on-4™ is an innovative implant-supported denture technique that anchors a full-arch restoration on four strategically placed dental implant posts. This provides superior comfort and security, as the denture prosthetic is locked in place and should not slip along the gum line like a traditional removable appliance. The state-of-the-art All-on-4™ approach can be used to replace all of the teeth on both dental arches, helping people obtain a beautiful smile with improved aesthetics, functionality, and comfort.
I was so tired of scooping out glue from my mouth at night. I met with Dr. Roy and he assured me this would be a thing of the past. And he was so right! No more glue!

– Sally
What are the benefits of All-on-4™
Compared to traditional dentures, All-on-4™ (locking dentures) can offer a wide range of unique advantages. Patients who choose All-on-4™ implant dentures can enjoy:
Exceptional stability without "slippage."
No more plastic/acrylic on the roof of the mouth, returning taste and speech to normal.
Reduced irritation along the gumline, as nothing actually touches the tissue.
No food impaction as the implants fix the denture in place.
No pastes or adhesives.
Easy maintenance and cleaning (Waterpik does an excellent job with this).
Ability to chew and speak with ease and confidence.
It can only be removed by the dentist.
Reduced "bulkiness" in the mouth, giving the patient a feeling similar to natural teeth.
The bulk in the lip can be controlled, as the plastic/acrylic in conventional dentures gives the patient an artificial look.
Each All-on-4™ denture is custom-designed to provide a comfortable fit and a beautiful smile. Many patients experience a boost of self-esteem after receiving their new teeth. All-on-4™ dentures have a very high rate of patient satisfaction, and are typically a more economic choice compared to a full set of single implant restorations.
I got dentures from another dentist and just couldn't stand the gagging they caused. Now I feel like I did 40 years ago

– Norm
Who is a candidate for All-on-4™
Ideal candidates for All-on-4™ are typically those who need to replace one or both arches of teeth. This technique is often incorporated into full mouth reconstruction plans for comprehensive smile rejuvenation. In many cases, switching to implant-supported dentures can help those who currently have traditional dentures enjoy greater comfort and smile aesthetics. For patients with one or more of their natural teeth still remaining, one of our dentists can determine if extraction or another restorative technique will best suit you.
One thing that is important to note is that patients interested in All-on-4™ must have sufficient jawbone density to support the dental implants used to anchor the denture prosthetic. During your consultation process, one of our dentists can assess the state of your mouth and jaw to determine whether you are a good candidate. That said, one of the major benefits of the All-on-4™ system is that it usually requires only 4-6 implants per arch, so many people who have been told they were not good candidates for implant restorations in the past may still be eligible for this treatment.
How Is the All-on-4™ Procedure Performed?
The All-on-4™ treatment process typically begins with a consultation. One of our dentists will assess the state of your mouth, bite, jaw, and oral structures in order to determine whether implant dentures are right for you. In cases where patients still have some teeth on the arch or arches being treated, tooth extraction may be necessary. Other preparatory procedures—such as periodontal therapy—may also be recommended in order to ensure optimal oral health and the highest chance of implant success.
Once your oral health has been optimized, the implants used to anchor your restoration can be placed. Our dentists use advanced technologies and biometrics to determine the best placement location for each implant. This helps ensure the most durable and stable fit for your implant denture. Over the next few months, the implants will undergo osseointegration, fusing with the jawbone and becoming permanent parts of the mouth. After the implants are fully healed, your final denture prosthetic can be securely affixed within your mouth for a beautiful, natural-looking smile restoration.
How Long Do All-on-4™ Results Last?
With proper care, All-on-4™ locking dentures can last for decades or even a lifetime. The dental implants used to anchor your locking dentures are designed to become a permanent part of your mouth, fusing fully with the jawbone and gum tissue. That said, the denture prosthetic itself may need to be replaced at some point. This is because the biting and chewing surface sustains natural wear and tear over time.
In order to promote the longevity of your denture appliance, our dentists recommend brushing and flossing regularly and attending your twice-yearly dental visits. This allows a professional to assess your appliance and notice any potential issues—such as teeth grinding—in advance. We also advise patients to avoid biting into excessively hard or pitted foods—such as cherries or ice cubes—that can subject your dentures to excess wear.
How Much Does All-on-4™ Cost?
Since the procedure will vary from patient to patient, there is no one set price for All-on-4™ (locking dentures). When determining the cost of All-on-4™, there are several variables to consider:
Tooth extraction fees
Laboratory costs depending on materials chosen
Number of implants required
Other factors may apply
In general, fixed or locking dentures can cost between $30K-40K per arch, depending on a variety of factors. We have found all patients that have made this investment to consider their treatment life-changing. For those who are interested, we offer dental financing options.
Every time I went out to eat with my friends, I was terrified that my teeth were going to slip and fall out. Now, I feel like a young kid again, enjoying food with my friends!

– Cecile
For more information about All-on-4™, or to schedule a consultation, please contact our office today.