Although traditional dentures can effectively replace a full row of missing teeth, there are a number of inconveniences commonly associated with them. The pastes or adhesives used to hold traditional dentures in place can be messy or troublesome. Many people with traditional dentures complain of "slippage," feeling as though their dentures are moving along the gums as they eat or speak. With All-on-4™ implant-supported dentures, our team at Saco River Dentistry can use state-of-the-art dental implant technology to secure each denture in place for improved comfort, dependability, maintenance, and aesthetics.
What is All-on-4™?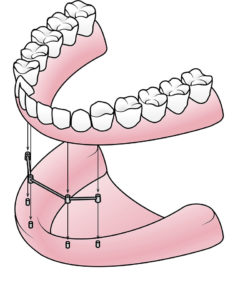 All-on-4™ is an innovative anchored denture technique that relies on four-to-six dental implant posts that are strategically placed into the jawbone. Typically, two dental implants are placed on either side of the front of the mouth and two additional implants are placed toward the back of the mouth at a slight angle. Two more may be used to provide the ultimate security and comfort, depending on the patient's needs. The custom-made denture is then attached to these dental implants for optimal stability. All-on-4™ can be used to replace the teeth of the upper arch, lower arch, or both arches for a full mouth restoration.
Benefits of All-on-4™
Compared to traditional dentures, All-on-4™ can offer a wide range of unique advantages. Patients who choose All-on-4™ implant dentures can enjoy:
Exceptional stability without "slippage"
Reduced irritation along the gumline
No pastes or adhesives
Easy maintenance
Ability to chew and speak with ease and confidence
Each All-on-4™ denture is custom-designed to provide a comfortable fit and a beautiful smile. Many patients experience a boost of self-esteem after receiving their new teeth. All-on-4™ dentures have a very high rate of patient satisfaction, and are typically a more economic choice compared to a full set of single implant restorations.
Candidates for All-on-4™
Ideal candidates for All-on-4™ need to replace an entire arch of their teeth. For patients with one or more of their natural teeth still remaining, our skilled dentists can determine if extraction or another restorative technique will best suit you. Since the dental implants must eventually fuse to the jawbone to provide the denture with excellent stability, candidates must have adequate jawbone density to support the four implants.
Patients with poor jawbone quality may require bone grafting prior to their All-on-4™ procedure; however, most patients do not need this preliminary step since only four or six implants are used. Due to the nature of the All-on-4™ technique, patients who are not good candidates for a full set of dental implants may still be eligible for All-on-4™. This is because the four implants are placed at the optimal angle to utilize the patient's available jawbone.
Cost of All-on-4™
Since the procedure will vary from patient to patient, there is no one set price for All-on-4™. When determining the cost of All-on-4™, there are several variables to consider:
Tooth extraction fees
Laboratory costs
Number of implants required
Experience of the dentist
Geographic location
According to the American Academy of Implant Dentistry, dental implants typically cost between $3,000 and $4,500 each. To aid you in your decision-making process, we will provide a detailed estimate of the total cost of your procedure during your initial consultation. If you would like to consider financing your restoration, we can help you find a payment plan that fits within your budget.
For more information about All-on-4™, or to schedule a consultation, please contact our office today.