Missing one or more teeth can impact the beauty of your smile as well as the function of your mouth, including impairing your ability to eat or speak. Dental implants from Saco River Dentistry can replace missing teeth with beautiful results and give you a smile you can be proud to show off. Dr. Richardson and Dr. Roy are extensively trained in the planning and placement of dental implants, an advanced technique that's considered the gold standard for addressing missing teeth. Comprised of titanium posts capped with dental crowns, dental implants are designed to mimic the look and feel of natural teeth while providing strength and durability. During your initial consultation, our cosmetic dentists can help you determine if this is the right approach for your needs and goals, and they will customize your treatment plan to optimize your outcome and make your experience as pleasant as possible.
What Are the Benefits of Dental Implants?
Dental implants can provide a number of advantages over alternative treatment options such as traditional removable dentures. In addition to replacing missing teeth, some of the potential benefits include:
Enhanced comfort and fit
Low maintenance—simply brush, floss, and have routine checkups as usual
Reduced wear and tear on the gums
Preservation of jawbone strength and density
Improved bite alignment and function
Beautiful, natural-looking results
Few, if any, dietary limitations
No messy adhesives
Questions about dental implants? We can help. Contact our friendly and knowledgeable team to learn more about dental implants or other options for replacing missing teeth.
What Can I Expect from the Implants Procedure?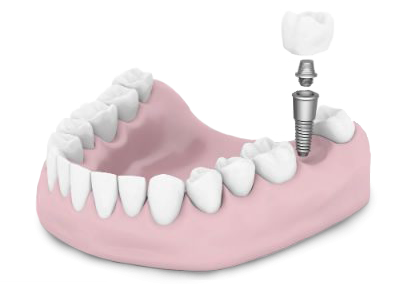 The first step is determining if you're a good candidate for dental implants. While this approach can be an excellent option for a wide range of patients, it's not for everyone. It's important for you to be in good general health and to have adequate jawbone density for dental implants to be a good choice. When you arrive for your first visit, Dr. Roy or Dr. Richardson will evaluate your teeth, gums, and other oral structures and discuss your options.
After that, a treatment plan will be developed. Our skilled dentists will determine precisely where to place the implants, which will be implanted through the gum tissue and secured to the jawbone for stability. The number of dental implants needed will depend on the number of teeth you're missing and your unique treatment plan. Typically, each tooth gets a corresponding implant, unless you're using an implant-supported denture, in which case four to six implants will be used to anchor the dental appliance. Our dentists will talk you through each step of the process, and we make every effort to provide you with the information you need to make the best decision for your oral health goals.
Once the implants have been placed, the surrounding bone will need time to heal. This can take six to nine months, and while most patients report little discomfort, some patience will be necessary. Temporary dental crowns or a denture will be used during recovery, so you will never be without your smile. Once healed, permanent dental crowns will be affixed to the top of the titanium posts, and your smile will be restored.
If you would like to learn more about dental implants, we encourage you to reach out to us. Our team can provide additional information, answer your questions, or help you to schedule a consultation.