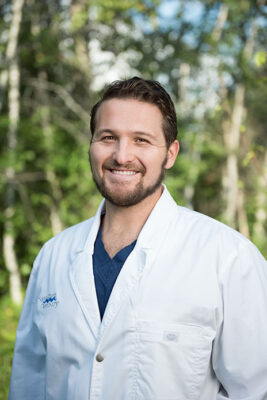 After graduating from the UNE College of Dental Medicine, Dr. Reagan joined the Saco River Dentistry team. Although he wishes he could call himself a native of Maine, he has lived in and loved this great state for fifteen years and cannot imagine calling anywhere else home. After graduating from Susquehanna University with a B.S. in Biology, Dr. Reagan received a Masters of Human Anatomy and Physiology at the Pennsylvania State College of Medicine. It was during his time there that he developed an understanding and appreciation for the ways that the oral cavity can influence the health and function of the human body—a stepping stone which led him to a career in dentistry. He has a particular interest in general and family dentistry, as he enjoys building relationships with his patients and helping them maintain optimal oral health over time. He also offers cosmetic dentistry solutions such as teeth whitening and porcelain veneers to help his patients achieve the beautiful, healthy smiles they desire.
Dr. Reagan is a member of the American Dental Association as well as the Maine Dental Association. His main focus is providing his patients with a comfortable and supportive environment while helping them achieve a healthy and confident smile. In his free time Dr. Reagan enjoys reading, cooking, and yoga, but most of all spending time with his family: his wife, daughter, son, and beautiful pug. Dr. Reagan is extremely excited to be at Saco River Dentistry and is looking forward to getting to know you.
Education and Professional Memberships
Education
Bachelor of Science (Biology) – Susquehanna University
Master of Science (Human Anatomy and Physiology) – Penn State College of Medicine
Doctor of Dental Medicine – University of New England School of Dental Medicine
Professional Organizations
Academy of General Dentistry (AGD) – Member
Maine Academy of General Dentistry (ME AGD) – Member & Treasurer
American Dental Association (ADA)  – Member
Maine Dental Association (MDA) – Member
Greater Portland Dental Society (GPDS) – Member
New England Master Track Program (NEMTP) – Member & Treasurer
American Academy of Implant Dentistry (AAID) – Member & Candidate for Associate Fellowship
Get to Know Dr. Reagan
Why did you decide to become a dentist?
I was fortunate enough to pursue a master's degree in human anatomy and physiology prior to entering into the dental field. During that time, I developed an appreciation for working with  my hands, paying attention to detail, and evaluating complex biochemical interactions. Part of my thesis project focused on the brain-gut interactions and how they can both play a role and alter how we perceive taste from a very young age. This sparked an interest in the dental field, which I have found to be the culmination of working with your hands, tapping into the science of medicine, and spending time with people.
What do you enjoy most about being a dentist?
Without question, the thing I enjoy most is meeting new patients and helping find a way to keep them happy and anxiety-free while in the dental chair. One of the best parts of my day is making patients comfortable throughout what can be a daunting experience. I've found that occasional singing helps!
How would you briefly describe your patient care philosophy?
Spending the time to sit down and understand how a patient wants to be treated is the cornerstone for how I approach patient care. Each person is unique in that they come to the dental office with preconceived notions of "what the dentist is," and "what I need for my mouth." I believe it is my responsibility as a care provider for both of us to embark upon a journey to discover how to help bring them back to the best oral health they can achieve.
Are there any particular moments in your career that stand out for you?
When I was a recent addition to the SRD family, I had the opportunity to meet a patient experiencing one of the worst days of their lives. They had broken a number of teeth and were in agonizing pain. One of the things I will never forget is coming in to meet the patient and them saying to me, "If you put your fingers in my mouth, I will bite them!" This demonstrates the level of anxiety and pain that the patient was experiencing in the moment. After talking for a while, we decided that it would be impossible to bite me if I only used a mirror. I am proud to say after working with this patient for a few years, they no longer have any fear of the dentist and are working on starting a career as a dentist for themselves.
What do you feel are some of the most significant breakthroughs in dentistry—and what do you look forward to in the future?
The advent of computer-assisted design in dentistry years ago changed the way we practice. As time goes on and this technology continues to push the bounds of what we understand as modern dentistry today, we will likely move to fully eliminating time between appointments for things generally sent out to the lab.
What's the top advice you have for someone who is looking for a dentist?
Find a provider who is someone you can trust and understands what you need from them from both an emotional and a dental perspective.