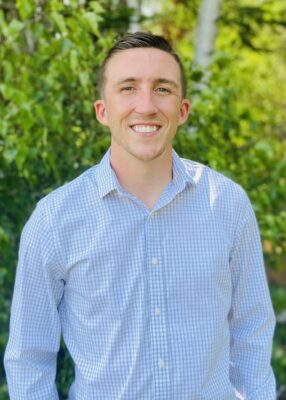 Dr. Christian Labonte is a proud Maine native who grew up in Lewiston. He knew he wanted to be a dentist from a young age after his own positive experience receiving orthodontic care in high school—witnessing firsthand how transformative feeling confident, comfortable, and healthy in your smile can be. Since then, he has dedicated himself to being the best student, provider, and team player he can be. He is a proud graduate and Black Bear Alumnus of the University of Maine, receiving a B.S. in Biology. He graduated and received his DMD degree from Tufts University School of Dental Medicine and is proud to be serving his fellow Mainers as part of the team at Saco River Dentistry.
Dr. Labonte feels blessed to be in a career he loves. He constantly aspires to deliver exceptional comprehensive, preventative, and general dentistry treatments for all of his patients, and he is looking forward to getting to know you. In his free time, Dr. Labonte enjoys spending his time outside—skiing, fly fishing, playing tennis and basketball, hiking, running, and spending time with his family and friends at his family lake house. He also thoroughly enjoys cooking and loves preparing healthy meals for himself and his family and friends. He is a Boston sports enthusiast and loves trying craft brews from all over New England—recommendations always welcome!
Education and Professional Memberships
Education
Undergraduate Degree – University of Maine
Dental School – Tufts University School of Dental Medicine
Professional Organizations
Academy of General Dentistry (AGD) – Member
American Dental Association (ADA)  – Member
Maine Dental Association (MDA) – Member
Greater Portland Dental Society (GPDS) – Member
New England Master Track Program (NEMTP) – Member
Get to Know Dr. Labonte
Why did you decide to become a dentist?
My interest in dentistry was sparked by my own smile. As a teenager, I was extremely self-conscious of how my teeth appeared. This caused me to have anxiety, lose confidence, and rarely smile. The care that my dentist and orthodontist provided me had a truly powerful impact on my life. It improved my self-esteem, gave me greater confidence, and ultimately made me a more successful person. It was after this experience that I identified dentistry as a profession that would allow me to help others in a very unique, dynamic, and rewarding way.
What do you enjoy most about being a dentist?
I love helping patients understand all of their treatment options and providing superior preventive dental care. So commonly patients have only experienced reactionary dentistry, or as I like to call it, "whack-a-mole" dentistry; a problem came up and the dentist fixed it, but without talking to the patient about why the problem occurred in the first place. I love being able to help educate patients about what their current dental problems and needs are and working with them to determine which options work best for them.
How would you briefly describe your patient care philosophy?
I treat every patient as if they were a family member of mine. Whether it be recommending treatment options, performing the procedures, or following up, I give every patient my complete time, attention, and empathy.
Are there any particular moments in your career that stand out for you?
The moments that stand out to me are when patients have told me that their appointments were the most fun they've had at a dental visit. I'm fortunate to have had this compliment several times, as I always strive to create comfortable, stress-free, and fun environments for my patients.
What do you feel are some of the most significant breakthroughs in dentistry—and what do you look forward to in the future?
I believe cone beam computed tomography (CBCT) is still one of the most significant breakthroughs in dentistry. This technology allows us to see the teeth as the true 3D objects they are. Traditional radiographs limit us to a 2D perspective. The resolution of CBCT is noteworthy and the magnification distortion is extremely minimal. This technology helps me to evaluate, diagnose, and treat patients more efficiently than any other recent technological advancement.
What's the top advice you have for someone who is looking for a dentist?
Find a dentist and dental team that will do everything to save or improve upon your existing teeth. No replacement options a dentist can offer is better than the real thing. Replacement options including dental implants, dentures, and bridges are all fine options when needed, but ideally they are a last resort in favor of keeping the real teeth. Find a dental home that is conservative, preventative, and builds treatment plans around keeping your teeth healthy for your entire lifetime.
How Would You Describe Working at Saco River Dentistry?
I wouldn't want to be anywhere but SRD. The support I get from Dr. Roy and upper management, from my colleagues, and from the rest of the team is unparalleled. I am a better dentist, co-worker, family member, and friend because of the strong team and noteworthy individuals I work with. My passion for dentistry and serving others has only been enhanced by working at SRD.