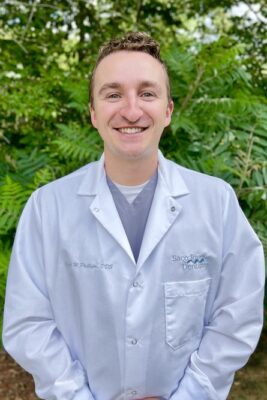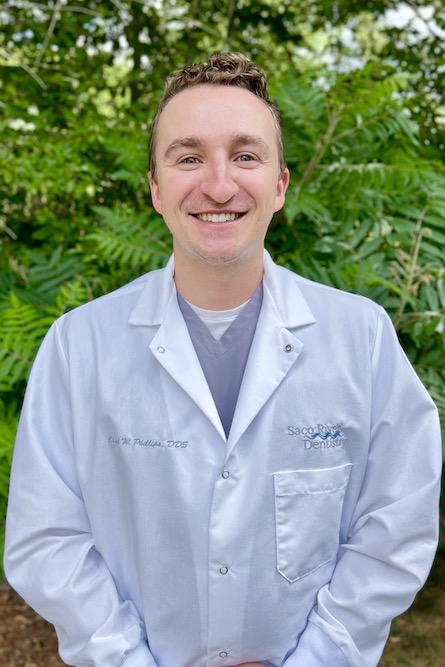 Dr. Chad Phillips is originally from Scottsdale, Arizona and grew up in Wichita, Kansas. Dr. Phillips attended Baker University in Baldwin City, Kansas where he earned his B.S. in Biology and participated on the men's golf team. During this time, he studied abroad for a semester in London, England. Dr. Phillips then went on to attend the University of Missouri – Kansas City School of Dentistry.
He realized dentistry was the career for him after an experience with Invisalign® in high school showed him firsthand how dentistry is the perfect combination of science and art. His clinical interests include all aspects of general and family dentistry, with an emphasis on prosthodontics and orthodontics. Dr. Phillips strives to provide a positive dental experience through empathy and patient education, while helping his patients achieve a healthy, confident smile.
After dental school, he relocated to Maine to be with his partner, Amy, who currently attends medical school at the University of New England. Dr. Phillips' main passion outside of dentistry is photography, but he also enjoys traveling, hiking, golfing, watching sports, and trying new restaurants.
He is excited to be a part of the team at Saco River Dentistry and serve the local community of Buxton. "I love the team atmosphere of working at Saco River Dentistry. Every single person here has the same goal at the forefront of their mind—providing exceptional dental care for our patients that is second to none. If someone doesn't have the answer, there is someone else here who does."
Education and Professional Memberships
Education
Bachelor of Science (Biology) — Baker University
Doctor of Dental Surgery — University of Missouri – Kansas City School of Dentistry
Professional Organizations
Academy of General Dentistry (AGD) – Member
American Dental Association (ADA) – Member
Maine Dental Association (MDA) – Member
Greater Portland Dental Society (GPDS) – Member
Casco Bay Study Club Breakwater Seminars – Member
Get to Know Dr. Phillips
Why did you decide to become a dentist?
I have many family members who are in healthcare, so I've been surrounded by it my whole life and always knew I wanted to do the same. However, medicine or any other health professions never fully resonated with me. As I was finishing up high school, I knew I wanted to go into college to study biology. It was right around that time that I was receiving Invisalign treatment from my dentist. Spending more time at the dental office and seeing how my smile was changing on the 3D model fascinated me. This inspired me to begin shadowing and I haven't looked back since.
What do you enjoy most about being a dentist?
In addition to my passion for science, I've always had an eye for art as well. Photography has been a major hobby of mine since I was 15 years old. Dentistry allows me to fulfill both interests on a daily basis. It is the perfect combination of the two, while also allowing me to serve the community. I couldn't ask for a better profession.
How would you briefly describe your patient care philosophy?
My goal is to provide the most positive patient experience possible. I understand that everyone's needs are different—some want to know every detail of what you're doing, some just want to know that you're there for them every step of the way. I strive to tailor my patient care to each individual and figure out how we can work best together as a team. Doing so allows us to achieve the best and most realistic outcomes possible.
Are there any particular moments in your career that stand out for you?
There have been a handful of patients over my first few years that really stand out in my mind. The treatment they received was truly life-changing and as a provider you feel like you become such an important part of their lives. One of these patients was from my time in dental school in Kansas City. I saw her soon before I graduated and we were able to start her treatment, but another student a year younger than me had to continue it. She had a long journey, as it was a slow-moving, multi-disciplinary case. She finally completed her treatment over a year after I first saw her. She reached out to me to thank me for my efforts and for getting her on the right path. She was so happy and appreciative. It's truly an honor to be able to have that impact on someone.
What do you feel are some of the most significant breakthroughs in dentistry—and what do you look forward to in the future?
Technology in dentistry has always been something that has pulled me to the profession, and this is such an exciting time for it. The landscape of technology in dentistry is changing daily and It can be difficult to keep up with everything that's out there. I believe one of the most significant breakthroughs is the combination of intraoral scanners and 3D printers. These technologies are going to continue to improve and drastically change our workflows and the possibilities are truly endless. I'm excited to continuously learn about the capabilities of this technology.
What's the top advice you have for someone who is looking for a dentist?
Finding a dentist you trust can be difficult. A major part of building that trust is having a dentist who truly listens and understands that patients are human beings, not just a set of teeth. I truly believe we do an excellent job here at Saco River Dentistry taking a step back, evaluating our patients comprehensively, and moving forward from there. I would advise people to try to find that quality when looking for a dentist.