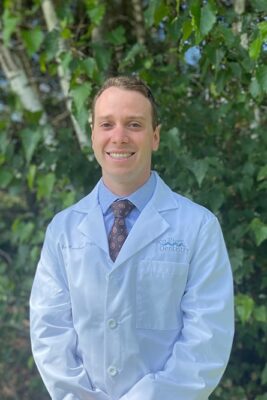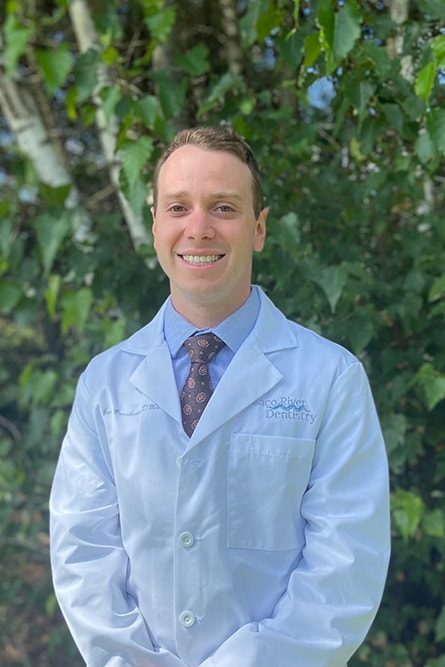 Dr. Jason Greenbaum is a native of New Jersey. After high school, he moved north and fell in love with Maine. He earned a B.S. in Biology at the University of Southern Maine, then attended the University of New England College of Dental Medicine to pursue his dream of becoming a dentist. Dr. Greenbaum comes from a family of dentists, including his father and uncle. During his time at the University of New England, Dr. Greenbaum completed two externship rotations where he provided dental care to underserved rural communities in both Maine and Vermont. Upon graduating from dental school, Dr. Greenbaum chose to continue his education through a year-long General Practice Residency at the University of Vermont Medical Center in Burlington, VT. Through his postdoctoral training, Dr. Greenbaum provided care to patients in both a dental clinic and hospital setting. He advanced his skill set and knowledge of dentistry in areas such as cosmetic dentistry, dental implant placement, and endodontics.
Dr. Greenbaum is passionate about helping patients overcome their dental anxiety by providing comprehensive dental care in a gentle and stress-free environment. Dr. Greenbaum and his wife live in Old Orchard Beach. In his free time, he enjoys the outdoors and playing his guitar. He is a multi-instrumentalist and singer who started a dental school rock band called Nitrous Roxide. Dr. Greenbaum is excited to be joining the team at Saco River Dentistry and looks forward to meeting you.
Education and Professional Memberships
Education
Undergraduate Degree – University of Southern Maine
Dental School – University of New England College of Dental Medicine
Professional Organizations
Academy of General Dentistry (AGD) – Member
American Dental Association (ADA)  – Member
Maine Dental Association (MDA) – Member
Greater Portland Dental Society (GPDS) – Member
New England Master Track Program (NEMTP) – Member & Parliamentarian
Get to Know Dr. Greenbaum
Why did you decide to become a dentist?
My father and uncle were both dentists and this opened the door to dentistry for me; however, this was not enough. I wanted a career where I could combine several of my strengths, such as interpersonal skills, manual dexterity, and intellectual ability. As I researched more into a career in dentistry, I realized that this profession was the perfect combination or "amalgamation" of my strengths.
What do you enjoy most about being a dentist?
Helping patients overcome their anxieties and fears about the dentist while improving their overall oral health and confidence in their smile.
How would you briefly describe your patient care philosophy?
It is my goal to provide patients with compassionate care. I take pride in discussing every patient's desires, goals, apprehensions, and curiosities about their oral health care.
Are there any particular moments in your career that stand out for you?
One example was early on in my training during dental school. A woman came in for an emergency visit to our dental clinic with severe pain in her lower-back tooth. She explained that she suffered from severe dental anxiety, but the pain was so bad it was enough to get her through the door of our clinic. Upon further review with her, we determined where her anxieties stemmed from. Through understanding her fears and anxieties, we were able to take measures within the procedure that allowed her to get the needed treatment without provocation of her dental anxiety. She expressed her gratitude to us for taking the time to understand what she was concerned about, which allowed us to help her get necessary treatment.
The second example occurred more recently during my time in residency. A young woman in college at the University of Vermont had fallen and broken her two front teeth, which was aesthetically concerning to her. She was seen at our office and we restored her teeth with some beautiful composite fillings. She was amazed at how natural they looked. Fast forward 11 months, my wife and I are on a date night at the movies and there is a young woman behind the concession stand counter, smiling bright and helping the customers. As we approached her, I realized this young woman was the same one whose teeth I had fixed. When we got to the counter, she recognized me immediately and expressed her gratitude for helping fix her smile many months ago. It felt nice to see that the skills I have worked so hard to develop helped this young woman continue to smile brightly and confidently in her life.
What do you feel are some of the most significant breakthroughs in dentistry—and what do you look forward to in the future?
Going back a little while in history, I feel local anesthesia is probably the most significant breakthrough in dentistry. It has helped us deliver care that might otherwise be intolerable in an outpatient setting.
Another more recent breakthrough is composite and adhesive dentistry, which has allowed us to restore teeth with high aesthetics and luster. The ability for a patient to come in with a chipped tooth the day before their wedding and leave with a realistic filling has enhanced our ability to help people.
What's the top advice you have for someone who is looking for a dentist?
You should look for a provider who you can establish a trusting relationship with. The world of dentistry can make the patient feel vulnerable, and it is very important to know that your provider is there for you and has your best interests in mind.
How Would You Describe Working at Saco River Dentistry?
When the team at Saco River Dentistry comes together to help a patient, something magical happens.