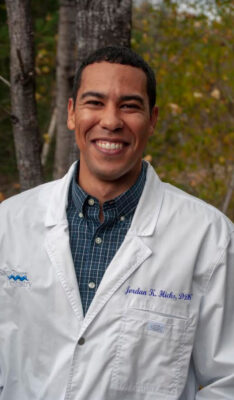 Dr. Jordan Hicks is a graduate of nearby Scarborough High School who joined us at Saco River Dentistry in 2019. He left his home in Maine to join another, with his grandparents in upstate New York, where he obtained a degree in Biology from Binghamton University. While there he performed such odd jobs as mowing his aunt and uncles' lawn and babysitting his two younger cousins, so he is very much a family man at heart. More recently, he received his doctorate of dental surgery from the University of Maryland School of Dentistry, and has since that time called Brunswick home.
After serving the Portland and Windham communities for two years, Dr. Hicks is beyond grateful to have found his dental home at Saco River Dentistry and hopes he can continue to earn his place in what he has found to be a very loyal community both in and around Buxton. Dr. Hicks also believes in painless dentistry. Therefore, while performing such common dental procedures as fillings, crowns, and extractions, it is his belief and mission that dentistry should hardly, if ever, be felt.
In his time since dental school, Dr. Hicks took various continuing education courses in areas such as dental implant placement, occlusion, and Invisalign®. Through his choice of the aforementioned courses, he takes great pleasure in being able to educate patients on all things dentistry, even if he is unable to provide you with the required care himself. In his spare time, Dr. Hicks enjoys such leisurely activities as reading, traveling, and trying anything that is new and delicious, and may coincidentally be described as food. When he elects to be active, basketball is his first love, but you might also find Dr. Hicks plays tennis in the summer and skiing in the winter. Interesting fact about Dr. Hicks: he has jumped out of a plane before—and lived—to be your dentist.
Education
Undergraduate Degree – Binghamton University
Dental School – University of Maryland School of Dentistry
Get to Know Dr. Hicks
Why did you decide to become a dentist?
I decided to become a dentist at the age of 16 with the encouragement of my childhood dentist, Dr. Nathan Goff, in nearby Scarborough when I saw the quiet but impactful way he got to make the lives of those in his community better. When a patient leaves with an even bigger smile than they come in with, I am reminded of the quiet, but impactful, way I am benefiting the communities in and around Buxton, and that makes me smile more than anything.
What do you enjoy most about being a dentist?
It always comes back to the people and community I serve. It doesn't give me any satisfaction to say I did a filling, a crown, or Invisalign® for a patient if the patients themselves are not happy with their experiences in my chair.
How would you briefly describe your patient care philosophy?
I always want what is best for my patients; and I believe passionately that relationships drive experiences. All things being equal, the thing I enjoy most about working at Saco River Dentistry is the fact that if either myself or a patient I should encounter for the first time does not agree with my proposed treatment or method of helping them achieve greater comfort in a dental setting, I have a team of highly qualified and equally caring colleagues all under the same roof that complement my own acquired skill set for the purpose of providing the best dental care possible.
Are there any particular moments in your career that stand out for you?
There are definitely moments with patients that stand out, but the moment that stands out the most, ironically, is when I decided to leave my previous office behind and take the summer of 2019 off before joining Saco River Dentistry. It was during that time I truly realized that I loved helping patients with their teeth. To Saco River Dentistry and our entire patient base, I thank you all for welcoming me as a part of the greater community, and I look forward to serving you for years to come.
What do you feel are some of the most significant breakthroughs in dentistry—and what do you look forward to in the future?
The amount of options available for patients who have the unfortunate circumstance of having lost some or all of their teeth. Obviously, there are some anatomical limitations as it pertains to specific patients, but if you are missing teeth, there is not a whole lot our office can't provide. The world of dental prosthetics—including implant-supported dentures—is really at the heart of it all and, I am glad to say, so are we!
What's the top advice you have for someone who is looking for a dentist?
Compassion can't be overstated. Compassion builds trust.
How Would You Describe Working at Saco River Dentistry?
Just like the Maine state motto: "The way life should be"