Your smile sets you apart, and our team at Saco River Dentistry recognizes that the most beautiful smiles are also the healthiest ones. We keep that philosophy in mind when developing your Smile Design program, which is intended to enhance your teeth and gums using the latest aesthetic treatments. Our cosmetic dentists—Drs. Nicholas K. Roy and Zachary K. Reagan—utilize their knowledge with comprehensive oral care to determine the best possible cosmetic treatments that can help you achieve your desired outcome. During the initial consultation, our team will help you determine if Smile Design is right for you.
What Is Smile Design?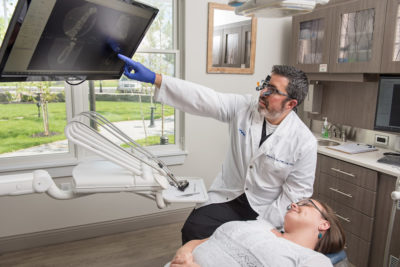 Also known as a "Smile Makeover," Smile Design from Saco River Dentistry is a multi-purpose approach that mixes and matches cosmetic techniques to suit your preferences. If you have more than one concern you would like to address, such as stained teeth, chips, gaps, and/or crowding, for instance, our dentists can recommend a selection of options to correct them. When combined, these treatments can provide more comprehensive improvement than a single procedure and help you achieve the results you're after.
What Concerns Can a Smile Makeover Treat?
A Smile Makeover is a fully customizable treatment plan that can address a wide range of cosmetic concerns, including:
Chips
Cracks
Gaps
Crowding
Stains
Gummy smile
"Short" or asymmetrical teeth
And more
Let us know what areas you would like to improve upon, and our extensively trained team will create a personalized plan designed to optimize your results using the latest techniques.
What Are My Smile Makeover Options?
You can mix and match virtually any procedure to create your own individual program. Some of the most common treatments our patients choose include two or more of the following:
Dental Crowns
Dental Implants
If you would like to correct dental concerns (such as missing teeth) alongside cosmetic issues, we can often repair and restore your smile while enhancing its beauty. We're here to assist you, so please let us know how we can help you in your goals.
What Is the Smile Design and Makeover Process Like?
Smile Design begins with an in-office evaluation. One of our experienced cosmetic dentists will sit with you and discuss your concerns, talk over your likes and dislikes, and answer any questions you may have. They will also perform an evaluation and develop a customized treatment plan based on your initial consultation. Every stage of the Smile Design process is personalized, and if you would like to add any other dental services, we typically can modify the procedure to include them. Just let us know!
How Much Does a Smile Design and Makeover Cost?
The price of a Smile Makeover will depend on which treatments you choose to have, the complexity of your program, and other factors unique to you. We understand cost is an important part of making your healthcare decisions, and we will review the total cost of your program at your initial consultation. If you are interested in dental financing, we work with reputable lenders you may wish to consider.
Ready to find out how a Smile Makeover can help you look and feel your best? Talk to our team today to learn more about this advanced option.