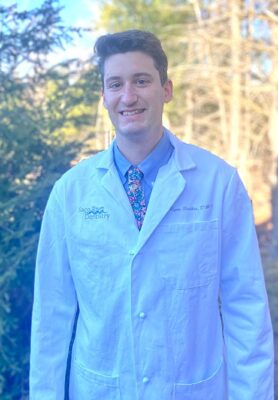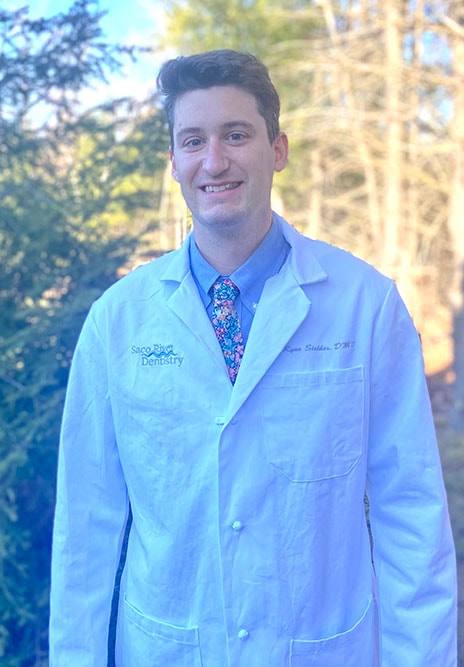 Dr. Ryan Stalker is an Upstate New York native who grew up in the small town of Sauquoit, NY. He attended Utica College for his undergraduate studies, where he received his B.S. in Biology. Dr. Stalker was always driven in his pursuit of attending dental school, which he ultimately did following his undergraduate studies. Dr. Stalker attended the University of New England College of Dental Medicine and received his degree as a Doctor of Dental Medicine (DMD). During his time at the University of New England, he completed two externships in rural Vermont, where he provided a variety of treatments, including endodontics, restorative dentistry, and oral surgery.
Following completion of dental school, Dr. Stalker continued his education at Faxton St. Luke's Oral Health Center as a part of a General Practice Residency. Throughout this program, he evolved his skillset in both hospital and clinical settings, improving his treatment planning skills and proficiency in all aspects of general and family dentistry. Dr. Stalker prides himself on making sure patients are welcomed into a positive environment where their concerns are heard and understood.
When not at the office, you can catch Dr. Stalker running, golfing, fishing, spending time with his fiancée Emily, and exploring all the coast has to offer. He is grateful to have the opportunity to provide care to everyone at Saco River Dentistry and looks forward to seeing all of you.
Education and Professional Memberships
Education
Undergraduate Degree – Utica College
Dental School – University of New England College of Dental Medicine
Professional Organizations
Academy of General Dentistry (AGD) – Member
American Dental Association (ADA)  – Member
Maine Dental Association (MDA) – Member
Get to Know Dr. Stalker
Why did you decide to become a dentist?
Growing up, I went through a transformational and multidisciplinary dental treatment—including trips to the general dentist, oral surgeon, and orthodontist—that highlighted to me the importance of dental practitioners to our overall health. It quickly became apparent to me that the dental field was the perfect blend of medicine, art, and patient interaction that I was looking for.
What do you enjoy most about being a dentist?
I think what I most enjoy about being a general dentist is the patient-doctor interaction and the life-changing impacts we can have on our patients each and every day. Whether it be from the standpoint of educating our patients on the importance of oral health, helping them overcome their fear of dental treatment, or getting great results from procedures, dentists can have profound and long-lasting impacts on their patients and the community as a whole.
How would you briefly describe your patient care philosophy?
If I had to sum it up in two words, I would say "patient-centered." I believe that the foundation of any patient-doctor relationship revolves around a patient-centered philosophy that is built from the ground up. Empathy, trust, and understanding are essential when it comes to educating and treating patients in a way that best fits their needs.
Are there any particular moments in your career that stand out for you?
There are many moments in my young career that stand out to me, however, I try not to put too much emphasis on any single experience. I think the biggest thing for me is that every night on my way home from work, when I run through each patient interaction and treatment in my head, I know my patients left healthier than when they came in. And to me, this is the number one goal.
What do you feel are some of the most significant breakthroughs in dentistry—and what do you look forward to in the future?
I feel that implant dentistry, digital scanning, and the ability of these two areas of dentistry to work in combination with each other is one of the most significant breakthroughs in dentistry. Replacing teeth, restoring function, and restoring a patient's confidence in their smile has been drastically altered by breakthroughs in dental implant and imaging technologies. I look forward to the continued improvement of digital systems and workflows to make the logistical and material aspects of these cases even more seamless.
What's the top advice you have for someone who is looking for a dentist?
I think the best advice I could give someone looking for a dentist is to go somewhere that makes you feel comfortable, welcomed, and accepted as a patient. I believe that this initial relationship is critical not only for the overall welfare of the patient, but also in walking through treatment plan options and feeling that your best interest as a patient is always the top priority.
How Would You Describe Working at Saco River Dentistry?
Since day one I've been welcomed at SRD like I've been part of the team for years. It's a positive, friendly, and collaborative atmosphere that is something special to be a part of.