Congratulations on seeking dental health and a beautiful smile at Saco River Dentistry!
Saco River Dentistry has a mission to deliver you the BEST dental care possible, in a financially feasible manner. Although this can be difficult, we will strive very hard to help you attain the treatment you deserve, in a way you can afford. We have designed 6 options of financing that will help you get your needs met. These 6 options give you flexibility while allowing the cosmetic dentists and hygienists to execute the care without involvement of finances. This model has allowed the clinical team to focus on what they do best, creating a healthy and attractive smile! Our online smile gallery is proof of this!
Option 1: Dental Benefit Plan
Most patients utilize dental insurance up to a yearly benefit maximum. Unlike medical insurance, dental "insurance" is actually a benefit plan. Simply put, the yearly benefit can be thought of as a "coupon" towards dental treatment. It will only cover a percentage of common procedures up to a certain amount. For most dental benefit plans, this averages about $1500 per year. For most larger treatment plans, this option will only account for a portion of the financial outlay towards necessary care. This option is often used in conjunction with other options seen below. As a courtesy, we will submit a pre-authorization on your behalf to determine coverage.
Option 2: Self-Pay
Many patients decide to finance their dental treatment from self-pay methods. These options can be advantageous as they allow treatment to start right away, but the payments to be spread out over time. Some methods used in the past: re-financing mortgages, borrowing from family members, using credit cards, or taking out bank loans. This option is usually the best way to get ideal care delivered in a timely fashion.
We accept cash, personal checks, money orders, VISA®, MasterCard®, American Express®, and Discover®. Payment is due at the time of service, except in the case of sedation, Invisalign® treatment, cosmetic care, and comprehensive dental procedures, in which case an initial deposit of 50 percent will be due at the time of booking the appointment, with the remaining balance due two weeks prior to the procedure. For additional information, please see our Financial Agreement.
Option 3: Proceed Finance, CareCredit®, LendingTree® or Sunbit
Dental/medical financing has become a very popular way to obtain higher levels of care. These three third-party financing options help patients in need get their care with comfortable payment schedules and reasonable interest rates. Rates and offers change over time, so we have included details below. It is very easy to sign up and our staff will be glad to help you with this.

Proceed Finance offers loan amounts of up to $70,000 with repayment terms up to 96 months. With their competitive interest rates and minimum loan amounts of $2,500, this option can be ideal for those looking to finance moderate to more extensive treatments, such as bridges or full mouth reconstruction.

CareCredit® is a trusted national lender that offers credit cards designed specifically for health and wellness transactions. CareCredit® is accepted at over 200,000 locations nationwide, and they offer promotional financing along with no annual fees. This financing option can be ideal for treatments with small to moderate costs, such as Invisalign® or teeth whitening.
LendingTree® offers personalized dental loans that can range between $1,000 and $50,000, with repayment terms set between 24 and 144 months. Once your loan is approved, you will receive a lump sum, which can be put towards your treatment costs.

Sunbit allows you to choose from 6 – 72 month flexible payment plans for your Dental Care needs and offers loan amounts from $50 – $20,000. There are no late or application fees. You can apply online or look for a store near you!
Option 4: DenVantage
This company helps patients that are loyal to Saco River Dentistry by providing them with savings throughout the year. This is NOT an insurance plan, but it is ideal for those without an employee-sponsored plan. Instead, it's an affordable monthly fee that gets a patient the usual preventative needs (2 cleanings, x-rays, and exams per year), in addition to discounts on many of the services that we provide. A good analogy would be the savings you see at Costco, Sam's Club, or BJ's Wholesale. See the PDF below for more information. There are a variety of plans that suit all of our patients' needs.
Option 5: Build a Reserve
Some patients don't have the credit or ability to pay for treatment at this point in time. But they want to do comprehensive care and keep their teeth when possible. If the patient is not in pain, but has some desired treatment, we can set them on an automatic payment schedule and render treatment when the payments reach the required level. Although something of a last resort, it's helped many of our patients keep their teeth where they would've otherwise lost them.
Option 6: Phased Treatment Plans
Comprehensive treatment plans can be expensive, yet necessary, to get some patients back to good dental and overall health. Rather than choose the "cost-conscious" option, which usually involves less than desired treatment, some patients choose the comprehensive option, but decide to phase it out over time. This way, the patient gets ideal treatment, but over a time period that works for their financial abilities.
To help decide on the best plan for your, see our Financing Decision Tree: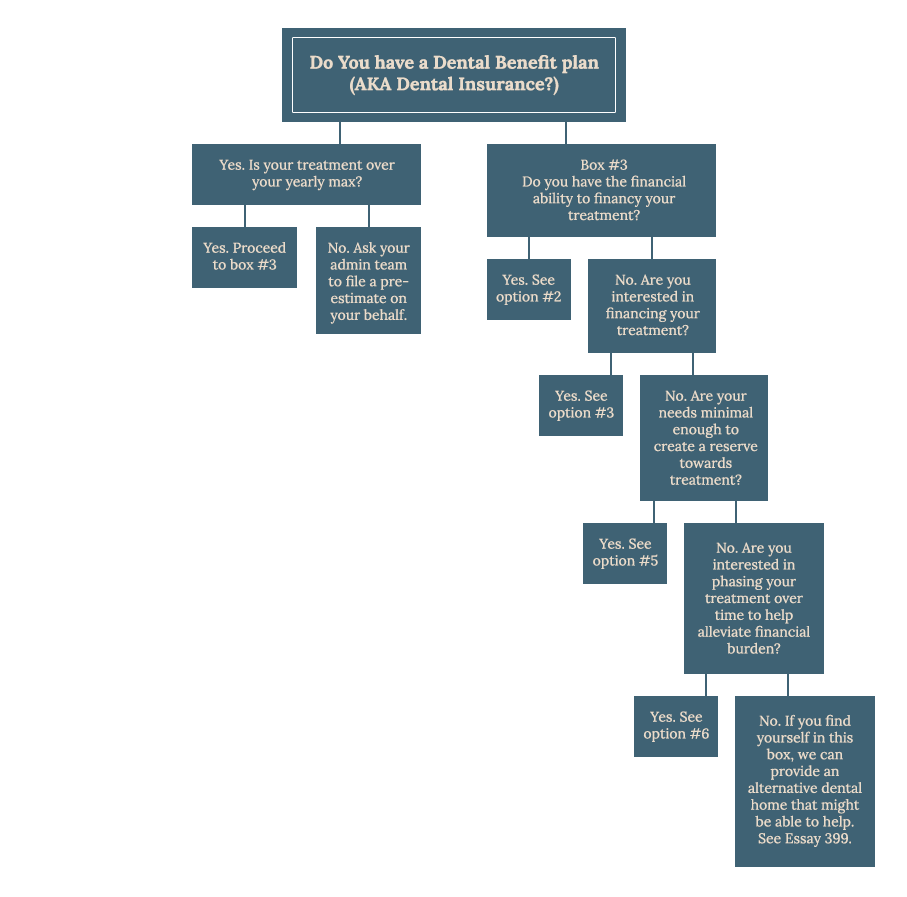 Have questions we didn't answer here? Call us today to find out more and to schedule a consultation.