Millions of people have smiles that include crowding, gaps, or another type of "dental misalignment," such as an underbite, overbite, or crossbite. These bothersome concerns can mar the beauty of a smile and be the cause of functional issues. At Saco River Dentistry, we offer an innovative treatment that can help straighten teeth with greater comfort and discretion than ever before. Invisalign® uses a series of clear, removable aligner trays that can gradually shift the position of the teeth. As a result, these "braces" are well concealed and can be taken out to eat, drink, brush, floss, and for special occasions. Our experienced cosmetic dentists, Dr. Roy and Dr. Richardson, can help you determine if this procedure is right for your needs and goals.
What Are the Benefits of Invisalign®?
Invisalign® offers numerous benefits, and both teens and adults can utilize this treatment to straighten their teeth. Some of the advantages of Invisalign® include:


Tailor-made to comfortably and precisely fit your teeth
Removable to allow for easy eating and oral care
Typically more comfortable than metal or ceramic braces
Free of metal, wires, and brackets
Fewer dental appointments required for adjustments
Virtually unnoticeable
How Does Invisalign® Work?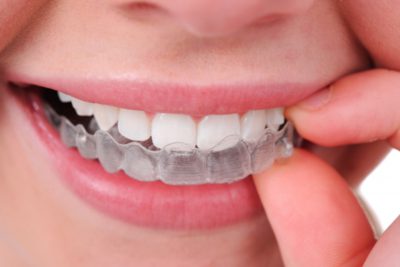 At our practice, your care is always our first priority. When you arrive for your initial consultation, Dr. Richardson or Dr. Roy will examine your teeth, discuss your concerns, and develop a customized treatment plan. To provide the most precise fit and optimal outcome possible, we will begin by taking an impression of your bite. From this mold, a series of clear aligners will be fabricated to achieve your goals step-by-step. Each tray is designed to reposition your teeth a small amount, progressively shifting each tooth into the final location. Each aligner is worn for about two weeks before moving on to the next one in the series. You should remove the appliance for eating, drinking, brushing, and flossing; however, it should be kept in place as much as possible at all other times for the most effective results and briefest treatment time.
Just as your smile is unique to you, so too will be your treatment plan. Most patients can achieve the discussed outcome in about 9 to 15 months. Depending on your singular needs, that estimate may be longer or shorter. Our dentists will provide a more specific timeframe during your visit. While Invisalign® is not appropriate for every patient, this procedure can address a wide range of mild to moderate alignment issues, and it may be able to help you achieve the smile you've always wanted.
We want to help you make the best decision for your needs, goals, and lifestyle. For more information about Invisalign®, or to schedule a consultation with one of our Saco River Dentistry doctors, contact us online or at (207) 929-3900.