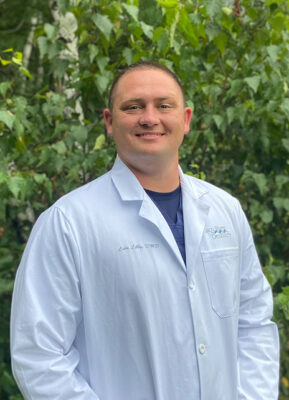 Dr. Luke Libby is a Maine native who grew up in the rural town of Dayton with his five younger siblings. He was raised around hard work and has committed his life to it in order to improve his abilities and range of skills. Dr. Libby attended the University of New England (UNE) for his bachelor's degree in medical biology and continued his education at the UNE College of Dental Medicine with honors. It was during his time at UNE that he developed a love for general and family dentistry and cultivated his passion to devise solutions for the challenges he was presented with. Dr. Libby is committed to helping patients realize their dental goals and improving the oral health of his community. He is also an avid 3D printer enthusiast and hopes to use it to provide high-quality services to his patients. 3D printing technology has allowed for rapid advances in restorative dentistry treatments, including dental crowns.
Dr. Libby spends his free time building and working outdoors with his family and enjoys hiking and biking. He is also SCUBA-certified and has been a saltwater aquarium hobbyist for the past 15 years. In addition to these hobbies, Dr. Libby participates with Rotary to assist in District 7780's RYLA experience (a leadership camp for high school sophomores). He is also a selection committee member of the Frank J. Gaziano Lineman of the Year Award for best senior high school lineman in the state of Maine, which has granted scholarships to students for the past 10+ years. Dr. Libby cares deeply for his community and the people he treats. He is especially excited to serve the public at Saco River Dentistry and looks forward to meeting all of you.
Education and Professional Memberships
Education
Undergraduate Degree – University of New England (UNE)
Dental School – UNE College of Dental Medicine
Professional Organizations
Academy of General Dentistry (AGD) – Member
Maine Academy of General Dentistry (ME AGD) – Member & Web Master
American Dental Association (ADA) – Member
Maine Dental Association (MDA) – Member
Greater Portland Dental Society (GPDS)  – Member
International Association for Orthodontics – Associate Member
New England Master Track Program (NEMTP) – Member & Vice President
Get to Know Dr. Libby
Why did you decide to become a dentist?
I became a dentist because I have a knack for fixing things and have always enjoyed working through complex problems. In addition, science and technology have always been interests of mine. The fact that I get to wrap these into one profession to help change lives is a bonus and it brings me much happiness.
What do you enjoy most about being a dentist?
I enjoy the opportunity to help people find their smile; one that functions healthily and gives  them a better quality of life than what they previously had.
How would you briefly describe your patient care philosophy?
There is a solution to every puzzle. People from all walks of life come through these doors looking for answers where they thought there were none. Some cases are more challenging than others, but the ones we can help with will change lives for the better. I believe in providing comfortable  and compassionate dentistry to our patients, along with helping them solve the problems they have and/or don't yet know about before they become troublesome.
Are there any particular moments in your career that stand out for you?
There is no greater moment than the look of a patient who has truly had their life changed for the better. I don't have just one moment, but I carry the many moments like this to drive myself forward because I want to change the world one smile at a time.
What do you feel are some of the most significant breakthroughs in dentistry—and what do you look forward to in the future?
The improvements in technology, such as Invisalign®. As an Invisalign® provider, I have had the opportunity to improve the function and aesthetics of patients coming through our doors. I look forward to the days when we can use technology to provide dentistry in ways we do not yet know or may not have come across. There is much room for growth and a bright future ahead.
What's the top advice you have for someone who is looking for a dentist?
Be selective and communicate openly. There are many dentists out there and we hope we can be a good fit for you. Open communication is a great way to build trust and trust is not something we expect to have immediately, but we would love the opportunity to build that bridge with every single person who comes through our doors.
How Would You Describe Working at Saco River Dentistry?
This is the environment that I enjoy, which is not just an office, but a second home. The team of people I work with and the patients are family here and we all work hard to keep it that way.